Recently my Nanny Jean, my father's mother, died of Cancer.
She was an amazing woman and she taught me so many things. She taught me how to sew a button and how to make a hem, she taught me how to bake (although i'm sure she wouldn't mind me saying that sponge cakes weren't her forte!) and how to feed a demanding family. She taught me how to cook from scratch: how to make a roux, how to prepare meat, and how to measure things in "old money" (to this day I know that a "stick" of butter is an ounce and that her battered and worn tablespoon measures a perfect ounce)- she taught me so well that I struggle to make anything using grams. She taught me how to look after clothes and how they are best stored, and she taught me how to iron and how to put a crease in my trousers (but I didn't have the heart to tell her that I deliberately buy clothes that don't need ironing).
The more I think about it the more I realise that if I were to write down every make do and mend thing that Nanny Jean taught me I would never actually finish this post. Nanny Jean grew up in a deprived area of Birmingham around the time of the Second World War and this clearly influenced her thriftiness which she made every effort to pass on to her children (this bypassed my dad, but my aunty Liz is a demon on the sewing machine, regularly sticking up curtains, pillow cases, and patchwork quilts) and then on to me and my two sisters. I can remember her making up tents from two of the kitchen chairs and an old duvet cover, or me and my sisters sorting through the button box, or making dresses for dolly pegs (I went to hang the washing out the other day and there are still faint faces that we drew many, many years ago): basically, my Nan taught us how to make our own fun.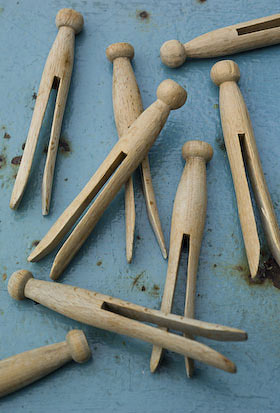 Dolly pegs, for all the young'uns who read this blog.
Nanny Jean taught us things to help our wellbeing as well as practical skills. Whenever I would speak to her about university she would always respond "work hard because they can never take your education away from you". It didn't matter whether I was speaking to her about how difficult the course was, or how people at uni could be catty and hurtful, or even if I was phoning up to report a good mark she always said the same thing. And, what's more, it's completely true what she said- no-one can take it away from you: you can get your house and car repossessed or you could fall ill, but through it all you would have an education that would allow you to attempt at starting again.
Nanny Jean was also one of by biggest cheerleaders. She was never afraid to give me guidance or tell me when I was wrong, but she always did it in such a way that I didn't ever feel like I was being put down. When I did well she was the first to shout it from the rooftop: at Nanny's wake there were hoards of people telling me how proud Nanny was that i'd got into Cambridge for my PGCE- I didn't know she told all of these people.
I'm glad my Nan was proud of me because it was her approval that I sought. Incidentally, she was very impressed that I was keeping this blog and thought it funny that you could document make do and mend approaches on the internet, thus making it modern. It really hurts now that she's gone. She was a shoulder to cry on, a teacher, a nurturer, and one of my champions: she was, and still is, not only my make do and mend hero, but a hero in every sense of the word.